---
How Can I Compare Multiple Images?
Within your dental software you have the ability to compare multiple images on screen. To do this, click on the images button (shown below) within the patient record.

Once you are in the images pane click on the display button, a dropdown list will appear (demonstrated below). Select the amount of images you wish to compare (the maximum being 9).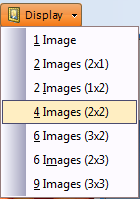 For example if you choose "2 images (2x1)" this will present two boxes side by side.
To add an image, double click on box you wish the picture to be displayed in. A window will now appear with all of the patient's images, select which one you wish to compare. Repeat this process with the remaining empty box(es).
The images are now present on the screen for comparison.
---
Request a demo »