---
How Do I Delete a Payment?
From time to time there may be circumstances where you have to delete a certain payment that you have entered into your dental software. To do this, follow the steps below.
First of all open the patient who you want to delete a payment from. Once the patient is open click on the Accounts button (shown below).

Now you are inside Accounts, make sure the check box 'Show all transactions' is checked.

A list of transactions should appear. They are displayed as shown below.

Select the payment you wish to delete by left clicking on the payment. Now you have selected the payment, right click then click Delete. The window below will appear, click Yes.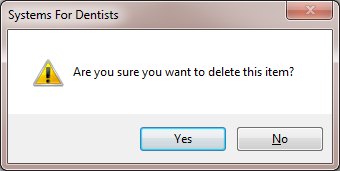 The payment is now deleted and will be highlighted red in the list of payments.
To learn how to backdate a payment,click here
---
Request a demo »