---
Why Can I Not Add in Treatment Items Wth a Specific Material?
Tooth Specific Treatment Items may require a material associated with them, when this is the case you must ensure that the material is setup and available for this tooth specific treatment type.

From the main setup are within your dental software click on the items button.



Now you will be faced with the following screen: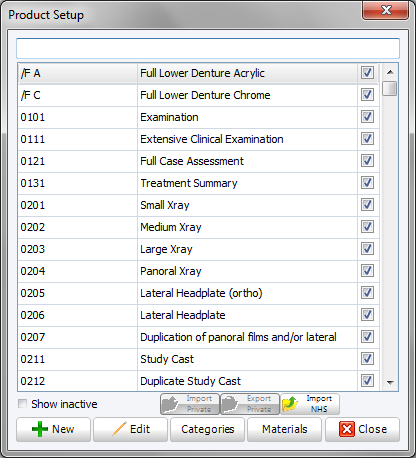 Click on the Materials Button



If you are trying to create an additional material click new, else highlight the material you wish to alter and click on edit.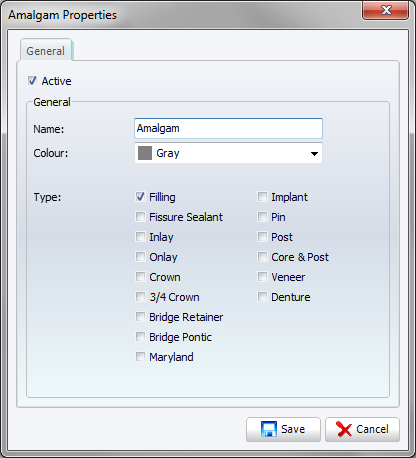 In this screen you can give the material a name, select a colour and specify the types of tooth specific treatments that the material pertains to. As with other sections of the program you can switch off a material by unchecking the active box.

Once you have created your material or made the alterations you require, click on the save button.

Now select the treatment Item you wish to configure, once you have highlighted it, click on edit.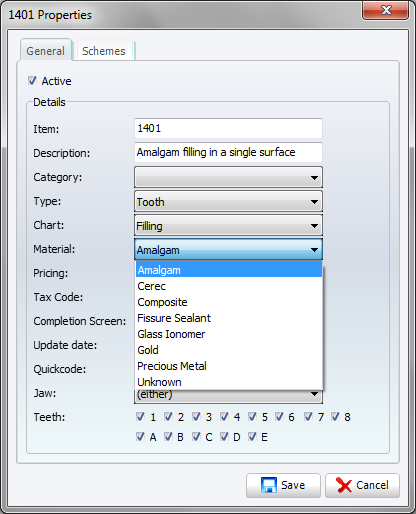 The screen above will be displayed, use the dropdown menu for material and select the material you wish to associate with your treatment item. Once you have done this click save. If the material you require is not listed, you must return to the material configuration and ensure that the types are correctly setup.

---
Request a demo »