---
What Level of Control Do I Have Over User's Permissions?
SFD delivers a detailed security system for your Dental Software, ensuring that users are only able to access the sections of your practice management software that you require. To ensure simple management of users permissions SFD uses a system of integrated security Groups.
A User will be unable to access the software until they are a member of at least one security group, to add a user to a group see this FAQ.
To make the initial setup of your system easy, we offer a series of pre-defined security groups as shown below. Should you wish to create custom groups then click on the following FAQ.>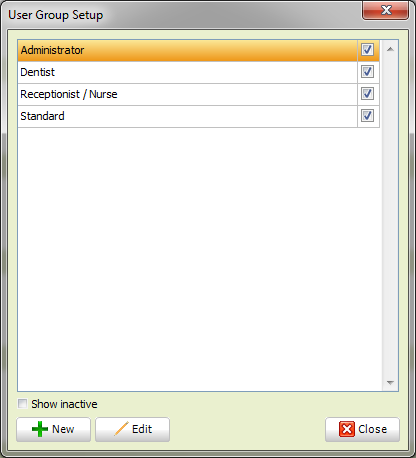 When a user is a member of multiple security groups in SFD they will be asked to specify which group they wish to be logged in as at login for more information read the FAQ How do I login to the program?
If the user in User1 has lower access privileges than the user in User2, then the system will request the password of User2 to allow elevation for each restricted action.
---
Request a demo »