---
How Do I Add Additional Visits to a Treatment Form?
After examining a patient it may be necessary to add additional visit(s) to the treatment form, if the proposed course of treatment can't be completed on the day of the examination.
To add an additional visit, simply click the Add Visit button (shown below).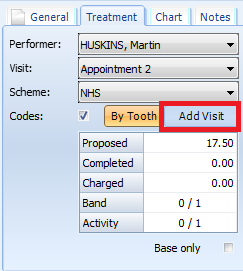 There will now be an extra visit (appointment) on your treatment form (example below). To add subsequent appointments, repeat this process.
To select the appointment you wish to add a treatment item to simply select the desired appointment from the Visit dropdown button (shown below).

Select the treatment item you wish to add, it will then appear under the appropriate appointment.
You can also drag and drop treatment items from one appointment to another. Simply hold the left button on your mouse down, hover over the appointment you wish to add the treatment item to, then release the left button on your mouse. This same method can be used for changing the order of appointments in your dental software.
Once the additional Visit has been created on the form you can let reception know by adding the visit to the treatment clipboard, simply double click on the appointment (shown below).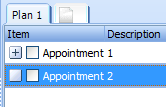 The following window will appear.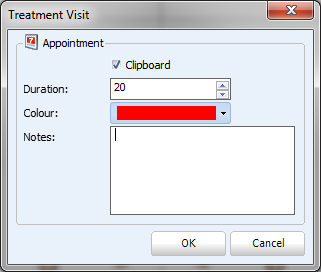 To add the appointment to the treatment clipboard tick the checkbox named Clipboard. You can add the duration required, assign a colour to the appointment and add any notes if required.
Once you click the OK button, the appointment will now be on the treatment clipboard so reception can simply drag and drop the appointment to the desired time slot.
---
Request a demo »