---
How Do I Create a New Quick Note?
Within the treatment properties of an item you have the ability to write notes. SFD allows you to make pre made notes in the quick note setup which allow you to add detailed notes at the click of a button.
To access the Quick note setup withinyour dental software, click on the SFD button in the top left hand corner of the screen, then go into Setup.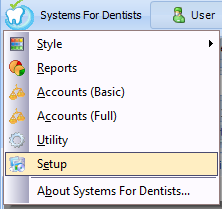 From there, click on the Quick Note button (shown below), located under the Miscellaneous bar.

The Quick Note Setup window should now appear (shown below), this window should list all the current active quick notes you have within the system. To edit a quick note, highlight the one you want and click on the Edit button. To create a new quick note, click on the New button.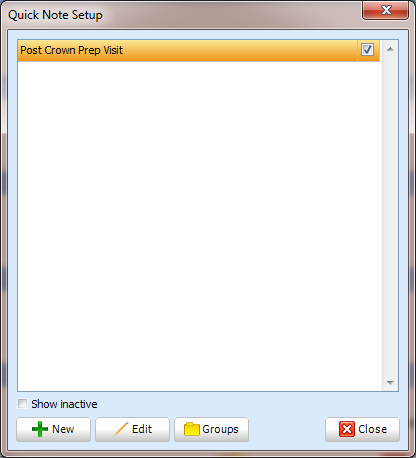 Note: You can create groups for your quick notes. Similar quick notes can be put together so they are easier to access when adding them to particular treatment items. Click on the Groups button towards the bottom of the window to edit any existing groups or add new ones.
The New Quick Note Properties window should now appear (shown below).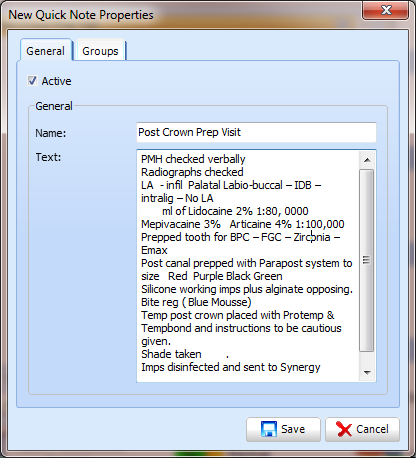 Within this window you will need to enter the name of the quick note, and then the text. Click on the Groups tab at the top of the screen to add the quick note to a group (shown below).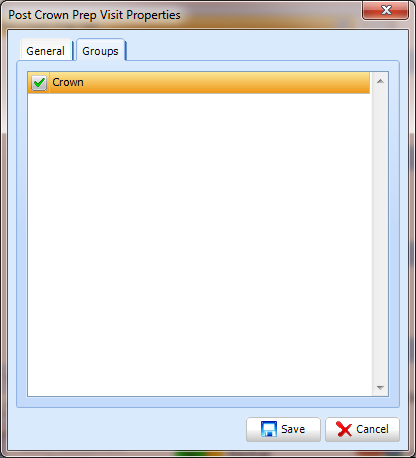 Once you have entered all of the necessary information, click the Save button at the bottom of the window.
Your new quick note should now be successfully setup and ready to use within your dental software.
---
Request a demo »