---
How To Create a SMS Template
SFD allows you to send text messages from the system to patients for general, appointment or recall correspondence. This article will show you the steps needed to set up a SMS template to send out to patients. To create the template you will need to go to Setup.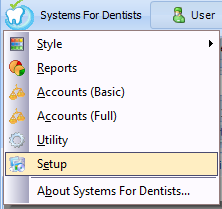 Scroll down to the Miscellaneous section and select SMS.

On the SMS setup page select Templates.
After clicking the template button, click New to add a new template or Edit to change and existing one. The screen below will appear, you can name the template and select the Type as General, Appointment or Recall.
General – Available to use for individual or bulk sending of SMS to patients. Appointment – Available for use for SMS linked to an appointment such as reminders, cancellations or bookings. Recall – Available to use with the recall report in order to contact patients.
Note: The GDPR box should be ticked for all SMS messages related to general, appointment or recall information. Your next step is to add in the content of your template (example below). Use the fields to generate the patients name and details by using the Insert Field option.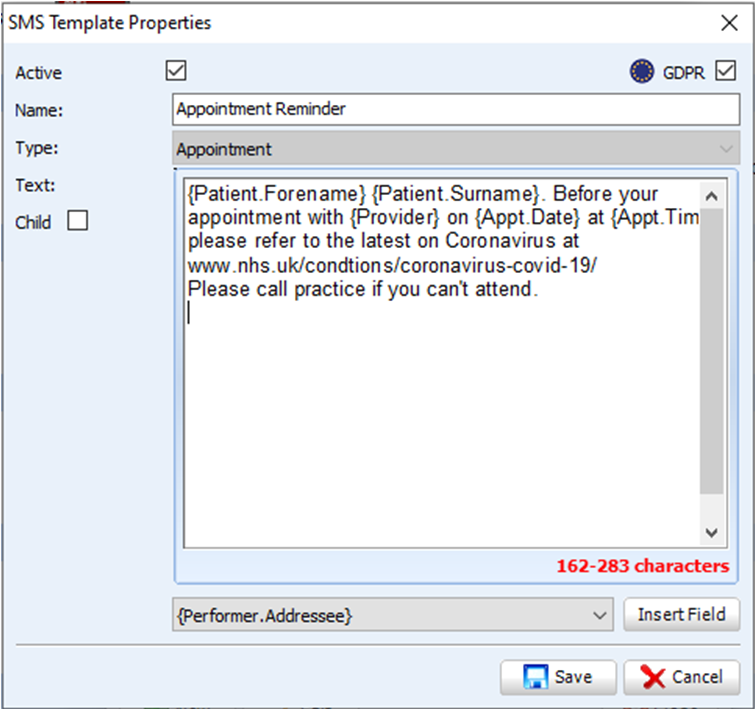 (Image: sms_template)
Note: The template includes a character count on the bottom right indicating that in this case our sms could be between 162-283 characters depending on the merge tags for the patient.
Once you are happy with the templates, click Save. You will now have a template that can be used for correspondence with patients.
Did you know…
Once a template has been created: • Reports can be created to send the SMS to multiple recipients. • The SMS can be selected by right-clicking on a patient from the appointment book. • The SMS can be sent from the correspondence patient record.
---
Request a demo »