Planning for the BDTA Dental Showcase 2012


We have committed to exhibiting at the BDTA Dental Showcase once again this year, and many of the staff are already excited about the event. Though the three days are hard work and can be tiring, the opportunity to show off exciting new features, meet existing customers and develop new relationships appeal to all of the team at SFD.
A great deal of planning is involved with exhibiting and without a strong relationship with your exhibition project management team; the whole process can quickly deteriorate into chaos taking up valuable company resources. Having suffered from this during our first show we are very careful when choosing which company to instruct on our behalf.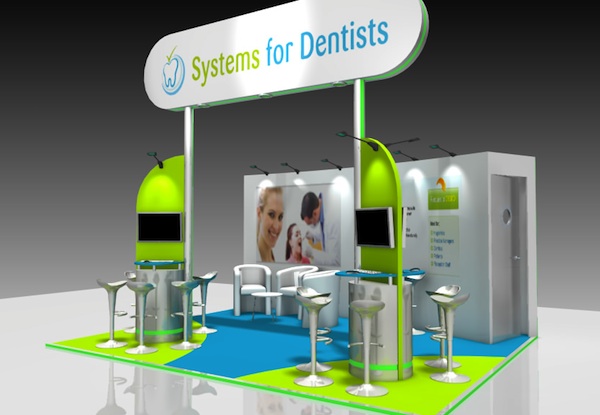 Our stand was designed by Julian Cave at Pyramid Design, who has an uncanny ability to translate rough textual descriptions into the detailed rendering you see above. The team at Pyramid also walked us through details we had overlooked, ensuring we would have everything we needed from the stand for the duration of the exhibition.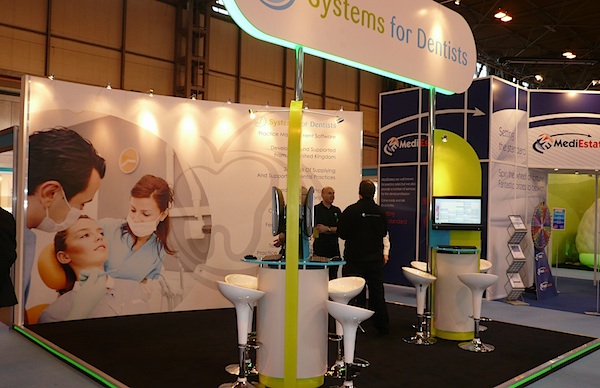 Above you can see a picture of the stand as constructed by Pyramid just before the Dentistry exhibition opened at the NEC in March 2012.
The stand was a great success and we had a extremely productive show, mostly with new business however it was a great pleasure to meet with existing customers, putting faces to names and ensuring they knew how to get the most from our dental software package.
The BDTA Dental Showcase team have allocated us stand P21 for this year's exhibition, it is not in the best location being at the back of the hall, so to ensure exposure we will be actively informing both existing and potential clients of our location prior to the event.
This year to ensure a headache free experience we have enlisted the services of Julian Cave and his team at Pyramid Design once more. The stand may be a little different from before, as together with Julian and his team we have come up with some ideas to improve the comfort for you when visiting us at the exhibition. With the outstanding service and workmanship Pyramid Design provide I am sure we will all have a pleasant show.
---
Request a demo »