Data Conversions - Changing your dental software


When switching dental software supplier to SFD, some practices are concerned about the information in their previous system.
Our in-house team of programmers are deadicated to offering the best possible data conversions, having converted hundreds of sites successfully from their old dental software; we pride ourselves on the quality of this conversion process.
Some of our competitors will only convert names and addresses from a client's previous software, in our opinion this offers a very poor start for the dental team, having to cope with new dental software at the same time as re-entering information into the new system.
Ensuring the data conversion is accurate is essential, to achieve this, our sales team will arrange for a free non-obligation test conversion. Once this has been completed the client is asked to assess the data and ensure they are happy with the outcome.
If the client feels something has been missed or require information to be stored differently the development team will work with them to achieve a satisfactory outcome. Once the client is happy with the test conversion an installation date for our dental software can be booked.
During the conversion process the practice is not required to return to pen and paper, we create an application specifically for your practice, this application will be run the evening of the practices last day using their previous dental software. The interchange of data between the outgoing software and SFD v6 is then an automated process, requiring no downtime.
Here are just some of the systems we have previously converted to SFD: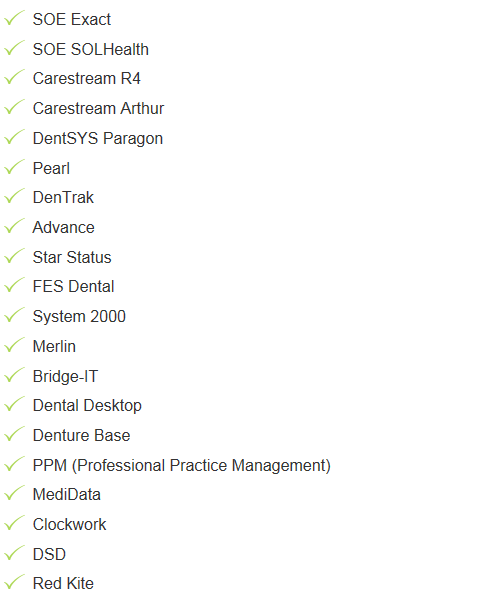 For more information on how to switch to SFD contact our sales team on 0845 643 2828 or request an on-site demonstration of our dental software.
---
Request a demo »