BDIA Dental Showcase 2015


BDIA Showcase Review 2015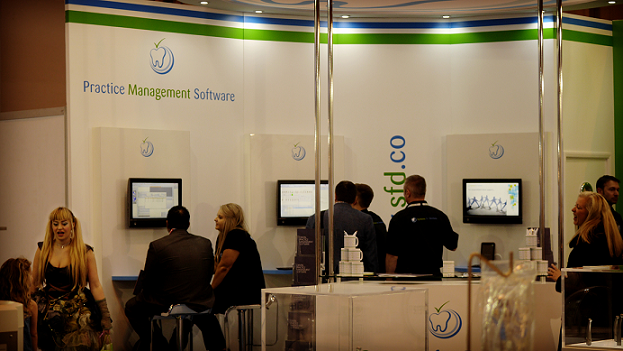 Systems for Dentists was a proud exhibitor at the BDIA Dental Showcase on 22-24 October once again this year. We are delighted to report that our stand, J175 in hall 5 was absolutely buzzing!
Of the notable highlights, BDIA was the perfect platform for new introductions to many of visitors that came along, and also the chance to say a warm hello to existing valued clients that popped in to see us over the course of the 3 day event, we were delighted to have the opportunity to meet so many and talk through your requirements in person.
This year's show was also a fabulous opportunity to showcase our very latest software innovations, as well as sharing with the industry all that is great about our products and services.
In particular, our latest software development Virtual Reception proved to be a real hit with all who had the opportunity of a demonstration at the show.
Designed and tailored to create the perfect patient portal to allow you to remain truly OPEN for your patients, 24/7, 365 days a year, this innovative development was received with great interest and was a definite talking point.
Delivering in a host of benefits, visitors to our stand were able to experience the benefits ofVirtual Reception at first hand including;
24/7/365on line patient access with the arrival of on line booking functionality allowing patients able to book, move, cancel and view their own appointment information on-line.
Two way communication at the click of a button and instant self-service functionality with patients able to review consent forms, post-operative care and estimates, amongst a plethora of other hosted information.
Timely access to personal records, data and treatment images, as granted by your Practice, and a portal which offers a more effective and open exchange between your practices and your patients leading to an enhanced customer experience.
Patient ability to pay for treatment in an instant via an embedded secure payment gateway.
Reductions in practice administration, cost savings in resourcing and reductions in printing costs through forms being available for completion on line.
Beyond the launch of Virtual Reception, we were delighted to note interest in particular for ourGo Paperless Solution made possible by our Wireless Signature Pads. In addition, there was much to discuss with many of you answering your interest around V6 Practice Management software and also our full range of products and services and the ways we are advancing our clients commercial aspirations in making operational efficiencies, driving up profits, increasing customers and helping you to grow your practice.
Over the duration of the show we were kept busy demonstrating our system and new developments, chatting through how we could make a difference and sharing how Systems for Dentists are leading the curve with regards the future systems developments to advance your practice.
As a sprinkling of added extra fun, our special guest, The Systems for Dentists branded Tooth Fairy, also made a special appearance. Giving the warmest of welcomes, meeting and greeting our visitors personally, handing out complementary miniature tooth pendants and other gifts, she was well received by all who came into contact with her, and added a personal dimension to our stand visitor experience.
And such was the warm welcome and interest from professionals in the UK dental industry we're already making plans to incorporate the show into our marketingthinking for next year. In the meantime, we'll be keeping busy dealing with the inbound enquiries and ongoing requests for demonstrations still being received from those interested in taking their practice in the UK to the next level.
And so, post the show, a huge "Thank you" to all our visitors and of course our valued customers who managed to take the time out of a busy schedule to come along and catch up with us.
We are already now preparing for BDIA 2016 and look forward to exhibiting again next year!
---
Request a demo »